The Seabed Bio-detector – Striped Threadfin (Polydactylus plebeius; Broussonet, 1782)
In November 2014, the Marine National ParkHeadquarters found a juvenile Striped Threadfin(Polydactylus plebeius Broussonet, 1782) while carrying out routine biological samplecollection along the West Coast of Dongsha Island. Spotted in the sandy shallowwaters amidst seagrass beds, the roughly 4cm long, dark-colored fish has beenidentified and confirmed as the first of its kind to be found within theDongsha Atoll National Park.
TheStriped Threadfin name commonly refers to the Polydactylus genus from thePolynemidae family. It is a fish of economic value, growing up to 45cm inlength, and is mainly distributed across the Indo-Pacific Ocean. In Taiwan, itcan be found near sandy mud in shallow waters of up to 20m in depth along theNorthern, Central, and Southern coasts, as well as offshore islands. StripedThreadfins have laterally-compressed and extended bodies, blunt snouts, and areknown to occasionally display predatory behaviour towards smaller fish, thoughthey mainly subsist on mud-dwelling fish, shrimp, crabs, and polychaetes.
StripedThreadfin are so named because they have 5 thread-like filaments below theirpectoral fins. These specialized filaments contain sensory cells that help todetect benthic organisms hiding in the seabed. Once the Striped Threadfin findssigns of life, it will proceed to dig up the organism using its snout; hence itis also called "The Marine Bio-Detector".
TheThreadfin species are mostly gregarious during adulthood, and exhibit seasonalmigration. Normal adult Threadfins are silver-gray in color; however, thecollected Threadfish sample was a solitary juvenile, and developed an unevenblackish-brown color due to environmental stress, and has been released intothe wild where it was found.
Theseagrass beds on the west bank of Dongsha Island are interspersed with a myriadof other ecosystems, such as coastal sand, reef blocks, etc., all of which cometogether to create amazing habitats sporting high biodiversity. Since theThreadfin species has never previously been found in the waters near DongshaAtoll, and taking into consideration the fact that the individual found by theresearcher was a solitary juvenile, further research and investigation needs tobe carried out to determine if there are indeed groups of Threadfin inhabitingthe nearby waters. (Text/ Liao, Zhen-Heng, Researcher, Dongsha Atoll Research Station)

Newly Recorded Fish Species, Dongsha Atoll NationalPark --- Striped Threadfin (P. plebeius)
(Image Credit/ Wang, Quan-You)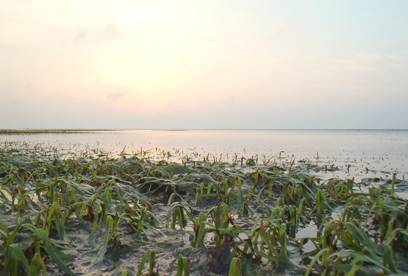 The seagrass bed on the west coast of Dongsha Islandboasts a wide variety of ecosystems and sports a high degree of biodiversity
(Image Credit/ Liao, Zhen-Heng)