Overall Inspection of Coral Reefs in South Penghu Marine National Park
Marine National Park Headquarters (hereinafter referred to as MNPH), Fisheries Research Institute, Penghu Marine Biology Research Center and Agriculture and Fisheries, Penghu County Government jointly hosted an overall coral reef inspection and an Acanthaster planci clearance activity in South Penghu Marine National Park from June 10th to 12th, 2015. During the same period, MNPH also conducted a location inspection of boat moorings for tourists to hold aquatic activities. MNPH indicated that this mission (across 10 survey lines) was conducted under the direction of Research Fellow Ming-Hsiu Cheng from Biodiversity Research Center, Academia Sinica, and the results showed that the coverage rate of coral reefs in Dongyu-pingyu was the best, reaching 76.8%. The average coverage rate in Dongii-yu was in second place, around 68.0%. Moreover, the mean coverage rate of four survey lines in Sigii-yu between 2009 and 2013 was about 45.9%, which indicated that the coral reefs damaged by massive Acanthaster planci graze were gradually restored. The investigational results of this year also revealed that the distribution density of Acanthaster planci was less than 2 per hectare, which was within normal limits of healthy coral reefs.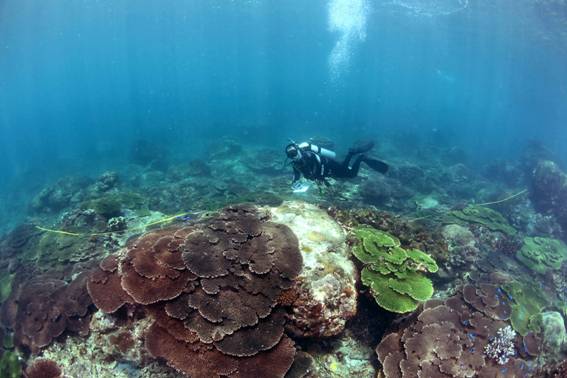 This is the 6th year of surveillance at the sea area of South Penghu Marine National Park.
(Photo by Ming-Hsiu Cheng)
The coral reef inspection and Acanthaster planci clearance activities at the sea area of South Penghu Marine National Park were initiated beginning in 2010 by Fisheries Research Institute, Penghu Marine Biology Research Center, and this year was the 6th consecutive year of these activities. The clearance amount reached to the maximum in 2013, only a single Sigii-yu surveillance station cleared 181 Acanthaster planci. However, no massive Acanthaster planci clusters were found in the same sea area from the past two years. Whether the clearance activity forced the migration of Acanthaster planci or it was associated with the life cycle of the population, the underlying reasons remained to be elucidated by continuous follow-ups.

Four Southern Islands of Penghu are located in the intersection zone between East and South China Sea marine ecosystems and consist of high marine biodiversity. In order to maintain sustainable preservation of the resources, the establishment of South Penghu Marine National Park was launched on June 8th, 2014. Coral reefs are important parts of the marine ecosystem, and they require long-term accumulation to establish a sound ecosystem. However, damage can be caused unintentionally. Therefore, MNPH kindly reminds the public again to comply with associated provisions when entering the territory of National Park. Permanent damage to ecological resources caused by personal behaviors is strictly forbidden. As a result, the beautiful landscape of South Penghu Marine National Park can be preserved sustainably with our joint efforts.
| | |
| --- | --- |
| | |
| South Penghu Marine National Park has a beautiful coral reef ecosystem. | A pile of Acropora hyacinthus are lying everywhere. |
| | |
| Acanthaster planci was clustered massively around Sigii-yu sea area between 2009 and 2013 and caused serious damage to the coral reefs. | After several years of continuous efforts, the current amount of Acanthaster planci between 2014 and 2015 was maintained within normal limits of healthy coral reef. (Photo by Ming-Hsiu Cheng) |
| | |
| Ovula ovum is a common large shellfish in South Penghu Marine National Park. | MNPH established a permanent surveillance station at the sea area of South Penghu Marine National Park, |