Sailing Towards Unknown Territory: Survey on Large Migratory Fish at Dongsha Atoll (1)
Dongsha Atoll National Park is located in the northern South China Sea and is a standard circular atoll 25 kilometers in diameter. The interior sea territory surrounded by the atoll is mostly shoals with a bad flow exchange rate. The outskirts of the atoll are open water with steep falling gradient at the outstretched continental shelf, causing a drastic change on deepness of the seabed. Also, it is adjacent to a marine ecosystem. Dongsha Atoll is the only large atoll landscape at the northern part of South China Sea. It is located at the north-south circulation intermediate zone of tropical marine organisms from the South China Sea and shallow water organisms from East Asia. It is also the ecozone distribution intersection point of West Pacific and Indian Ocean sea organisms. Therefore, it plays a crucial role on the research of biodiversity and biogeography.

The breaking waves of Donsha Atoll stretch outward. The seabed falls drastically and is adjacent to marine ecology.

For a long time, domestic and foreign scholars have visited Dongsha Atoll to conduct various researches on marine life. So far, abundant knowledge on fish species has been obtained at the inner and outer shallow water region of Dongsha Atoll, but the research on fish species between the continental shelf of the atoll and the ocean has not progressed. Middle and large size migratory fish are at the top of coral reef ecology food chain, and are known as tertiary consumers. This includes migratory sharks, tuna, marlins, doilphin fish, Scomberomorus commerson, mackerel, carangidae,barracuda and etc. Although most of these predators have permanent migratory feeding routes, they are timid and prudent organisms and are extremely quick. Also, due to the drastic change of deepness at their habitat, the diving observation method and miniature netting gear collecting method used by the research teams could hardly record them, not to mention indentifying their species and population.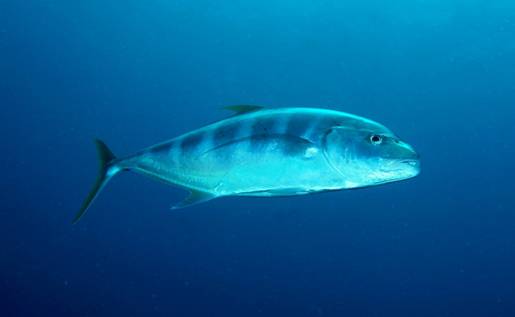 Large Migratory Fish: There is abundant population of carangidae around Dongsha Atoll.
Therefore, since May 2015, Marine National Park Headquarters has cooperated and implemented "Research Project on the Migratory Route of Large Migratory Fish around Dongsha" with Professor Ker-yea Soong of "Dongsha Atoll Research Station" and Professor Wei-chuan Jiang of "Taitung Fisheries Research Institute". By using catch and release methods, we put satellite location beacons on large migratory fish and hope to understand the basic living situation and migratory route of them with the data transmitted from the beacon and further understand the role Donsha Atoll plays on their migratory route. (Further research progress will be published in succession at the "Ecology and Conservation" section of MNPH website) (Written by Chen-heng Liao of Interpretation and Education Section)