Green Humphead Parrotfish appeared in the Dongsha Atoll National Park
Last Updated: Feb 23,2018
Hits: 1324
PDepartment: Interpretation and Education Section
During the period from 2013 through 2014, researchers had recorded the appearance of green humphead parrotfish (Bolbometopon muricatum) several times. These dark green, bald-headed fish showed up 80 meters away from the coast of the 4th Stronghold, Dongsh Island. Green humphead parrotfish are too coy and swift for researchers to track, but these records confirmed their appearance near the Dongsha area.

Research team from National Sun Yat-sen University found green humphead parrotfish again in 2017. These fish were swimming at the edge of the fault, locating 20 to 30 meters away from the platform reef of Dongsha atoll. According to researchers, these fish were medium-to-large sized, and they saw more 20 green humphead parrotfish passing by. The sight was spectacular and touching. "Even if you dive in foreign countries, this is still a rare scene," they said with excitement. "This is what a good coral reef ecosystem should look like."
Green humphead parrotfish around the Dongsha Atoll (screenshot from the video by張承翔)
Green humphead parrotfish have the largest body size in the Scaridae family. They usually live in groups and can grow up to 130 cm and weigh up to 46kg. Feeding on live coral and the algae, their feces play an important role in the coral reef ecosystem. These feces release the calcium carbonate in the coral's skeleton back into the ecosystem, and also form microhabitats for other marine species. Due to overfishing, Green humphead parrotfish are listed as protected species by IUCN (International Union for Conservation of Nature and Natural Resources). On July 2, 2014, Council of Agriculture also listed them into Schedule of Protected Species.


Big close-up of green humphead parrotfish (illustrated by 廖震亨)
The discovery of the green humphead parrotfish not only indicates the bio-diversity of the area, but also represents the well-functioned coral reef ecosystem in Dongsha Atoll National Park. Marine species are closely bounded with each other and well-balanced, hence the ecosystem cannot tolerate any slightest harm. Green humphead parrotfish and the coral are mutually beneficial, the same should be said of the relationship between mankind and the marine environment.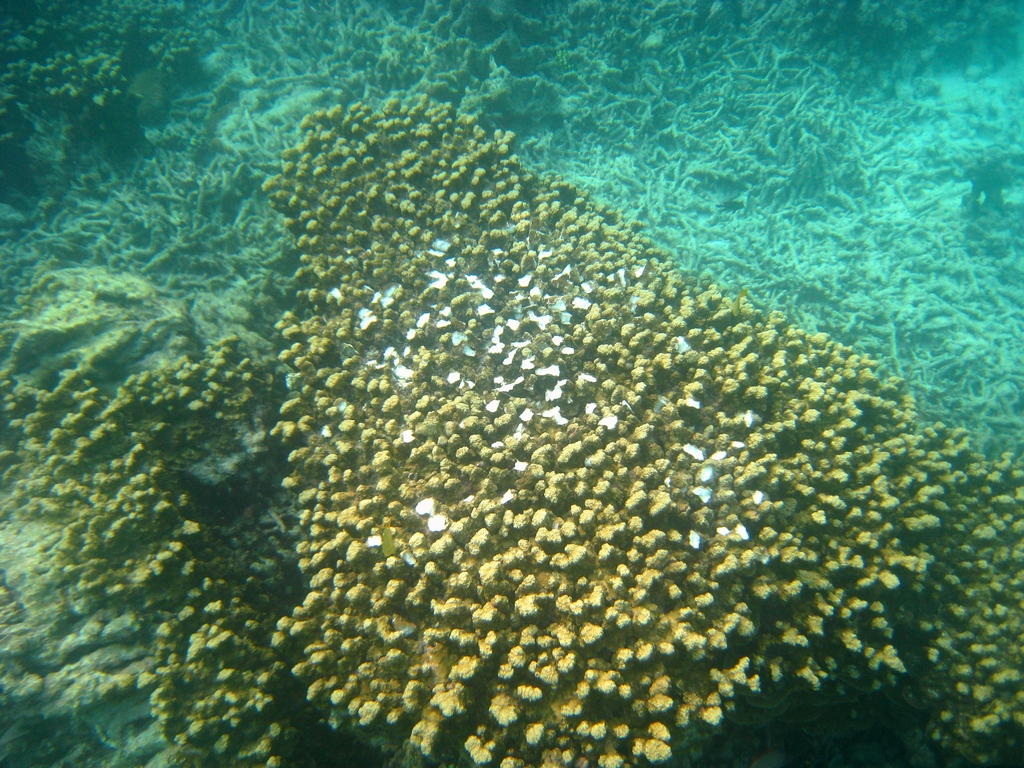 Poritidae chewed by parrotfish (photo by 陳慧如)