The Marine National Park Headquarters (MNPH) has entrusted the Kaohsiung Wild Bird Society with the study of wild birdlife on the Dongsha Islands. They discovered some brown boobies flying above the ocean areas near the south bank. The record for migratory birds has also been continuously expanded. This year the number of discovered species has arrived to 284, including the brown booby, the Schrenck's bittern, the spotted redshank, the wedge-tailed shearwater, the white-throated rock thrush and many more. These new discoveries highlight the importance of the Dongsha Islands to sea birds and migratory birds alike.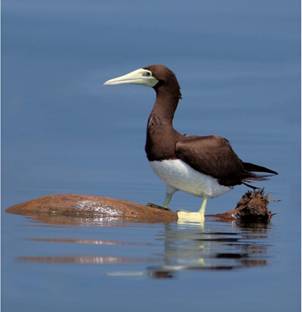 The brown bobby has the habit of standing on drifting objects. The most stable groups are found in the 3 northern islands. (photo contributed by the Keelung Wild Bird Society)
According to the MNPH, reports written in 1867 by the British adventurer Cuthbert Collingwood listed the brown booby as the dominant species in the Dongsha region. However, from the 19th century onward, the brown boobies began to disappear due to human activity among other reasons. These are the first official records after the establishment of Dongsha Atoll National Park. These two reports written 148 years apart are an inspiration to researchers and the MNPH.
Migratory birds from Mainland China's Chongming Island, north-western Australia, south-eastern Australia as well as the Taiwanese main island have been discovered on Dongsha Island so far. This April, a ruddy turnstone with orange and blue banding was captured. After cross-checking with various bird research platforms, researchers discovered it was the same individual released from King Island in south-eastern Australia, over 7000 kilometers away from Dongsha, in March 2014. According to the MNPH, the geographical position, plant life and wetland terrain make it a prime location for migratory birds to rest and forage. Other than the special brown booby, the rare white-throated rock thrush was also released after it was attached a ring symbolizing Taiwan by professionals from the Kaohsiung Wild Bird Society.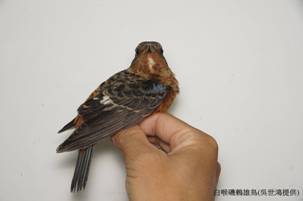 Newly recorded species on Dongsha in 2015- white-throated rock thrush (male)
Newly recorded species on Dongsha in 2015- white-throated rock thrush (female)
A ruddy turnstone from the Australian island of Tasmania stops by Dongsha to rest and forage. There is an orange and blue colored band on its leg for identification by researchers.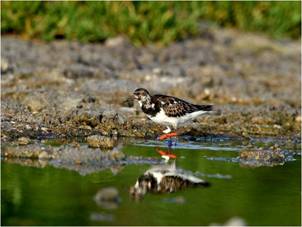 Ruddy turnstone with the Dongsha band attached. Ruddy turnstones appear on Dongsha year-round. It turns stones with its beak when searching for food.
According to the MNPH studies of birdlife have been ongoing since the establishment of the Dongsha Atoll National Park. Bird banding is especially important because it has the purpose of revealing information about the visiting and migration of the birds. Through attaching bands and rings with different colors and numbering, we believe the mysteries of Dongsha migratory birds will soon be revealed.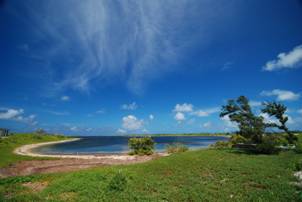 Dongsha Island possesses different environments such as lagoons, wetlands, beaches and plants that provide resting and foraging functions for migratory birds.