2016 Dongsha and South Penghu Reef Check Results
Last Updated: Aug 18,2016
Hits: 2832
PDepartment: Conservation Research Section
  The Marine National Park Headquarters (MNPH) has completed this (2016) year's reef check on Dongsha Atoll National Park and South Penghu Marine National Park. Compared to previous years, reef growth in both national park waters is steady, but there is still a low number of indicator fish and invertebrates, showing that the area still faces fishing and environmental pressures.
Area
Dongsha Atoll
South Penghu
Test stations
Outside the east reef flat
Outside the southwest reef flat
Outside the north reef flat
North mouth of water channel
Inside atoll lagoon 01
Inside atoll lagoon 02
Inside atoll lagoon 03
Dongyuping
Xiyuping
Xiji A
Xiji B
Dongji A
Dongji C
Depth(M)
8-10
10-12
8-6
11-12
5-6
3-4
3-4
4
4
10
3-4
3
3
Stony coral
Coverage % (A)
60
76
13
55
26
52
42
66
34
9
67
78
66
Soft coral
Coverage % (B)
24
1
76
1
0
0
0
7
20
38
3
0
0
Coverage % (A+B)
84
77
89
56
26
52
42
73
54
47
70
78
66
2016 Dongsha and South Penghu Reef Check and Reef Coverage Research Statistics
  
   The reef check at Dongsha Atoll National Park was done from May 13th to May 15th, testing 7 test stations spread across 50 thousand hectares of atoll. On the outer side of the atoll, corals displayed different community characteristics; reef coverage was up to 77-89%. Besides common stony corals such as Acropora, Staghorn coral, and Favia, a high density of soft corals are found outside the north reef flat, reaching up to 76% coverage at a single test station. However, owing to strong water flow there, the corals are mostly short or encrusting, lacking large crevices for animals to hide in. And so the fish that dwell there are primarily butterflyfish, Pomacentridae, and small wrasses. The water flow inside the atoll is slower, but the reef flats surrounding the lagoon affect the interchange of water flow. The water temperature in the summer is often as high as 30℃, so that corals that cannot withstand the heat such as Acropora and Staghorn are replaced by corals that can withstand environmental pressure, primarily massive or laminar corals. The reef flat has varied terrain, often forming large coral patches that are several hundred meters in diameter. Here, coral coverage varies as well, from 26 to 56%, but there are larger crevices for fish to hide. Often seen dwelling in the atoll are large fish such as parrotfish and Haemulidae.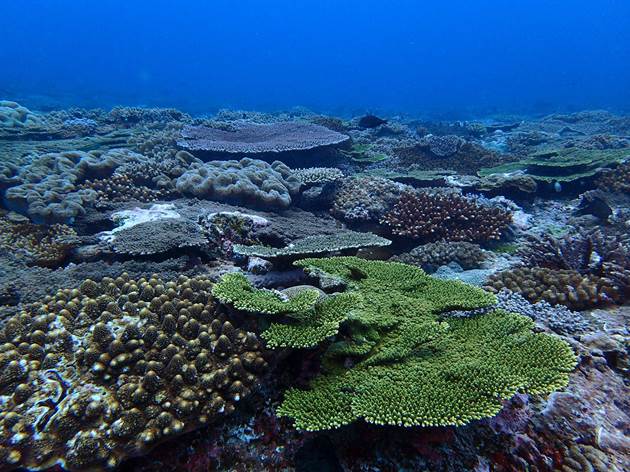 In order to defend against strong water flow, the growth pattern of coral outside of Dongsha atoll is mostly…
The soft coral outside Dongsha atoll's north reef flat has overall higher coverage and diversity than other test stations…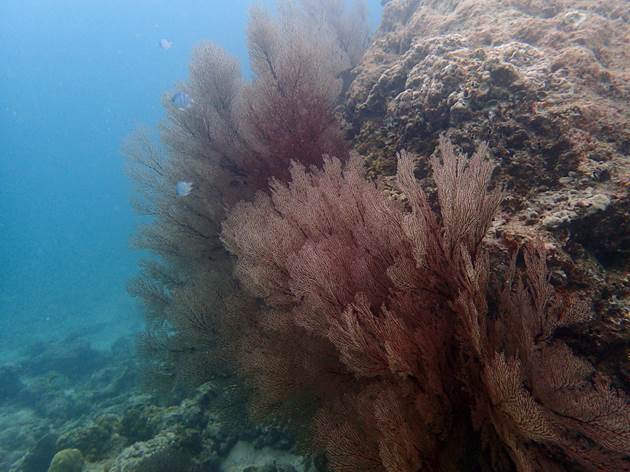 Red sea fans are common corals found on the reef within Dongsha Atoll lagoon.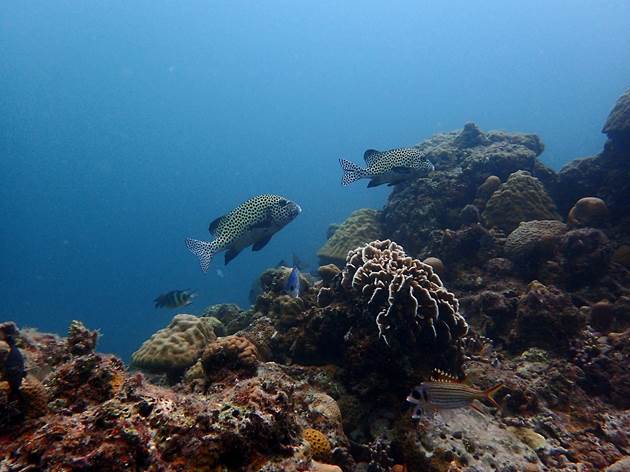 Large fish such as Haemulidae are more common in the reefs of the Dongsha Atoll lagoon
  The reef check in South Penghu Marine National Park was carried out by the Agriculture and Fishery Bureau of Penghu County and the MNPH from July 27th to 28th. Four primary islands were tested: Dongji, Xiji, Dongyuping and Xiyuping. Coral coverage was approximately 47-78%, with most (above 50%) meeting healthy coral standards. The 2015 reef check also found that the unexplained bleaching of the Montipora aequituberculata observed last spring has improved this year, but an investigation in May also found bleaching in some Acropora. The situation had improved in July. However, in the past two years, large amounts of algae have been found growing between the branches of the Acropora corals at Dongji port. Continuous monitoring is needed to discover the long term effects this will have on coral growth.Overall, no unusual bleaching has been discovered in the area, but the results of the reef check have also shown that there are fewer indicator fish and large invertebrates.Also, this year the Penghu County government announced that the population of protected sea urchins has now returned to standard levels.

  The MNPH has stated that the Dongsha Atoll National Park and South Penghu Marine National Park each have their unique marine ecosystem, and each have obstacles to overcome. Even though only the latter is currently open to public, increased marine recreational activity has gradually made an impact. They urge visitors to learn about the ocean before engaging in water activities, to prevent adding to the damage to the marine ecosystem.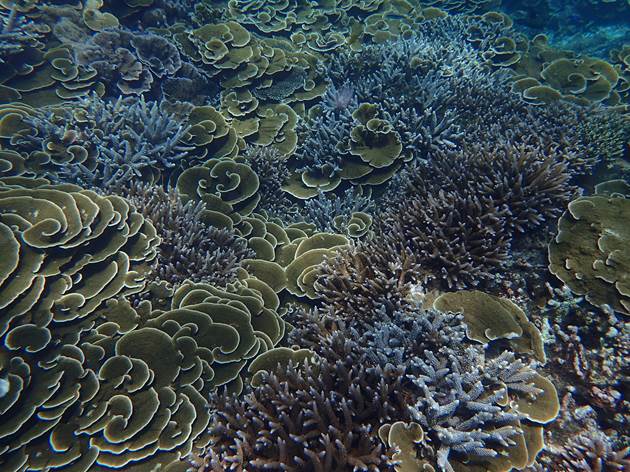 Acropora and Montipora aequituberculata are corals commonly found in the waters of South Penghu Marine National Park...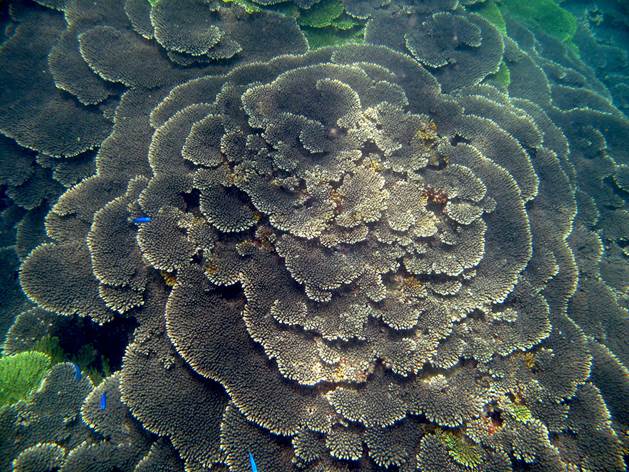 Multiple layers of Acropora can be observed not far from shore
Many species of fish gather in the basaltic reef area
Sea urchins are recovering well after years under protection