National Park and Penghu Homestay Convention Successfully Completed
Last Updated: Mar 22,2018
Hits: 689
PDepartment: Interpretation and Education Section
Rapid-developing tourism is flourishing hotel industry in recent years. Local hotels and homestays start to run their own nature feature tours, attempting to satisfy tourists eager to get close to nature. Ocean tour is the main attraction in Penghu tourism. Therefore, hotels and homestays play important roles when tourists come close to the ocean.

In order to make hotel and homestay owners acquire marine environmental knowledge and to let compatriots acquire ocean environment knowledge apart from seafood culture, Marine National Park Headquarters and Penghu County Homestay Development Association (澎湖縣民宿發展協會) held the 2018 National Park and Penghu Homestay Convention on March 15th. 61 local hotel owners participated the convention.

The convention started with introducing South Penghu Marine National Park. The headquarters not only mentioned about the foundation of the park, but also showed the feature attractions and precautions before entering the park. The information is provided for hotel and homestay owners to give to visitors before entering. Afterwards, Zhong-xing Chen commented on "How the Internet affects ocean featured activities and marketing"and"Sustainable tourism: achieving eco-friendly ocean tour,"expecting owners to have proper value on marketing. Furthermore, local marine ecologist Guo-xiong Hong focused on the vulnerability of island environment, reminding business owners and visitors behaviors that unconsciously harm the environment. Hong asked everyone to take on the responsibility for preserving the environment and to treat nature in the most natural way. Jia-rong Wu, manager of Ocean Citizen Alliance, mentioned the plastic reduction policy executed by EPA (Environmental Protection Administration, Executive Yuan). She expected disposable products to be used properly in business aspects. Last but not least, the convention called on hotel and homestay owners to realize the nowadays environmental issues with correct attitude, and furthermore, to spontaneously protect the ocean environment, allowing a strong, sustainable power to formed for education and preserving the ocean.
Local hotel owners are participating in the convention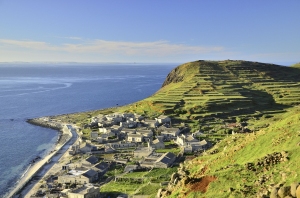 Settlements in Donyupingyu