What is Hidden under the Ocean? Find out in Marine National Park Headquarters'Result Convention
Last Updated: Jun 19,2018
Hits: 1830
PDepartment: Conservation Research Section
The MNPH cooperated with National Sun Yat-sen University (NSYSU) to host the 2017 Envirinmental Preserving Result Convention on May 24th, 2018. The event will be held in NSYSU's College of Marine Science Lecture Hall. The invited speakers are Professor Chang-fong Dai from Institute of Oceanography, Associate Professor Yu-sheng Huang from National Penghu University of Science and Technology, Associate Research Fellow Jian-xun Chen and Research Assistant Pei-ying Lin from Taiwan Ocean Research Institute (TORI). The convention will provide our published books, "Dongsha Sidelight: Meet the Sicklefin Lemon Shark," "Marine Creatures in Penghu Four Islands Handbook/Algae and Invertebrates" and "Octocoral Fauna of Dongsha Atoll" for reference. Our goal is to let citizens understand and preserve the ocean.
Lecturers of the convention. (from left to right are Yu-sheng Huang, Pei-ying Lin, Chi-Yuan Hong, Chang-fong Dai, Ke-yi Song and Jian-xun Chen)
The convention was opened by Pei-ying Lin, introducing Dongsha atoll's terrain. In order to collect SONAR data in the atoll, TORI modified the seismometer to fit the shallow waters in Dongsha atoll. After analyzing the atoll's formation data, research team concluded that Dongsha lagoons' sedimentary deposit is about 1km deep. 9 km underneath the Paratas Island, igneous rock belt has been found. The terrain of Dongsha atoll is different from Charles Darwin's atoll formation hypothesis. Therefore, several investigations will be executed in the future. Jian-xun Chen mentioned Foraminifera in Dongsha Atoll live in different regions. Foraminifera mostly appear in lagoons, coral platforms and in the outer atoll. Moreover, Amphistegina, a kind of Foraminifera with glass-textured shell, mainly appears in clearer waters in the outer atoll. The research team preliminary assumes Foraminifera's community regions can indicate reef environments.
Yu-sheng Huang introduced the intertidal zone in Penghu Four Islands and common species. Since basaltic islands have shorter intertidal zone, diverse species flourish in the sub-tidal zone. Creatures that indicate healthy ecosystem have been found in the zone, such as Tridacnidae and Charonia tritonis etc. Last but not least, Chang-fong Dai spoke of the features of Donsha Octocorallia. Through calthrop identification, research team found that there are currently 119 kinds of soft coral in Dongsha. Among these species, soft coral is the majority, while Alcyonacea is the least. The diverse coral families indicate Dongsha has its own isolated and yet unique ecosystem.
Chi-Yuan Hong,Director of Marine National Park Headquarters said environmental preserving is the basis of national park management. Therefore, good management preserves and sustains the natural sources. Dongsha Atoll National Park has been reached to its 10th year. The recent goal is to investigate the feasibility of niche ecotourism. Meanwhile, South Penghu Marine National Park is also pursuing a win-win goal by balancing both environmental protection and tourism. The Headquarters are running several instigations in 2018. Dongsha Atoll National Park is investigating seaweed, soft coral and fish around the area, while South Penghu Marine National Park is studying water resource, ocean habitats and the cultural history of Four Islands etc. Results will be announced in the result convention next year. By managing and promoting ocean-environmental protection, official will let citizens acquire knowledge of marine environment and to be environmentally conscious about the ocean.
Dean of College of Marine Science, NSYSU Sian-hua Li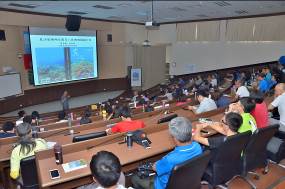 Chang-fong Dai is lecturing research results of Octocoral Fauna of Dongsha Atoll
The Dongsha Atoll has Healthy Coral Coverage (the image indicates soft coral located in the East atoll)
South Penhu Four Island are basaltic-volcanic islands, which have shorter intertidal
zone. Versatile species can be found in local tide pools.
[lecturer's powerpoint download link]:
2017 Envirinmental Preserving Result Convention10.72 MB