Baby Green Sea Turtles Spawned in Dongsha (part A)
June 1st, 2017, research teams in Dongsha Management, Marine National Park Headquarters announced that they found a green sea turtle's nesting ground. Finally on July 20th, seven baby sea turtles spawned and crawled out of the nest. The last record of sea turtle spawning could be traced back to four years ago (July 24th, 2015). Each spawning is an event worth remembering, and these precious moments have been recorded by Dongsha Management rangers and research teams.

On July 20th, 50 days after the discovery of the nest, rangers and research teams headed to the nesting ground to observe baby sea turtles emerge. They discovered that the hatchlings were already on the nest. Not for long, seven sea turtles peeped out from the sand, starting to crawl towards the sea as soon as they saw the setting sun. The last baby turtle hatched had been sent to Dong-guang Hospital (東光醫院) since it had an unhealed navel wound. After the cure, the rangers brought it back to the Dongsha Wildlife Conservation Center (東沙野生動物保育中心) for recovery. The baby sea turtle will be released soon after the wound is healed.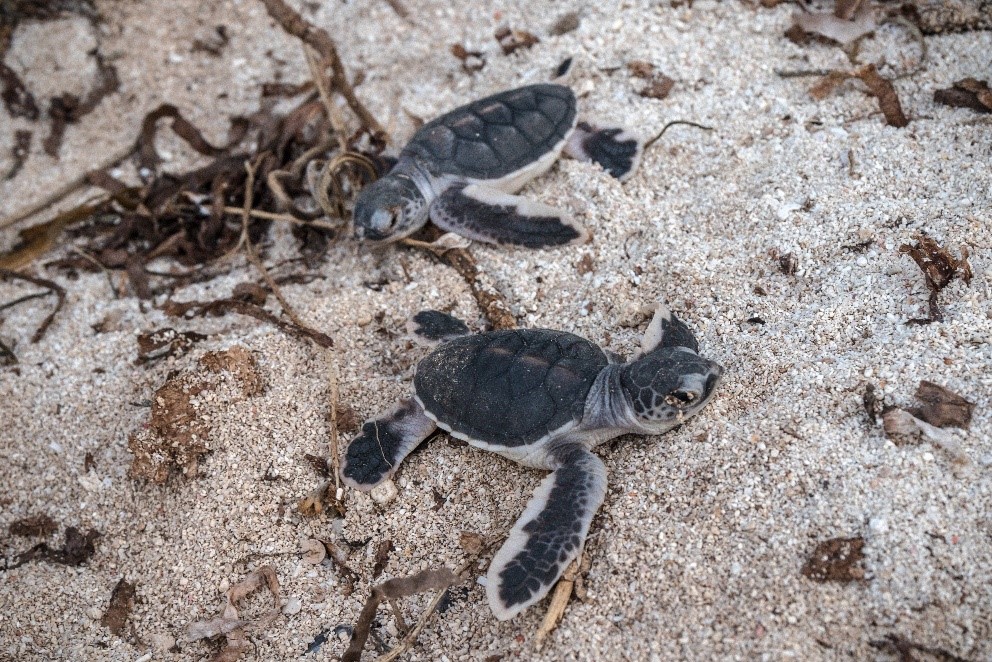 Baby green sea turtle crawls out of the nest (by Kaohsiung Wild Bird Society, KWBS)
Baby green sea turtles crawl towards the ocean (by Dongsha Management)