South Penghu Teenagers Camp Ended Successfully
Last Updated: Aug 27,2019
Hits: 1872
PDepartment: Interpretation and Education Section
Marine National Park Headquarters held the South Penghu Teenagers Camp on July 13th to 14th, inviting youth to understand the beauty if the ocean. South Penghu Marine National Park Educational Youth Camp offered a two-day trip for 40 university students to know about the abundant marine ecology and the history of Pescadores Channel.
South Penghu is an important international harbor. Also, the kuroshio current and longshore drifts weave a flourish marine ecosystem, which is suitable for educational study. Therefore, the headquarters prepared various activities for the youth camp, such as snorkeling, cruising, intertidal zone observation and hiking in Dongjiyu and Dongyupingyu. Additionally, through beach cleansing and creating art with ocean debris, participators can rejudge the relationship between human being and ocean. Last but not least,the camp watched WildViewTaiwan's marine documentary at night, and discussed how achieve a sustainably development environment.
The memorable trip inspired the members. "I learned a lot about the history, geography, and marine ecology of Penghu," said Huang, an institute of technology student, "I never heard about this island before, not to mention it's a national park. I experienced snorkeling for the first time in my life, and met new friends from different college. I wish we can all keep in touch." Chiu, a student from Institute of Environmental Education also said, "Through these activities, I found that there is a deep relationship between human and the ocean. Both the islands and the ocean have their own breathtaking features. We don't bring, pick and take anything from here, and leave no trash. This place is not only beautiful, but intrigues me to take action to protect the natural environment."
Speaking of the most unforgettable memory, it must be Hsu's. His parents met each other in Dongji thirty years ago. They fell in love in Dongji, but gave up living there. He joined the camp to visit an elder woman, Miko's grocery store, and sang the folk song "褒歌的紅勾姑" together, in memory of this beautiful love story.
The headquarters will continue to hold various types of environmental education activities in the future. It is hoped that the people can visit the local area, understand its ocean, geology and environment, and find the most beautiful corner of South Penghu between the sea and the island. We wish tourists can experience the beauty of the marine ecology and learn how to protect this unique and precious natural asset.
1. Group photo of Dongyupingyu
2. Intertidal zone observation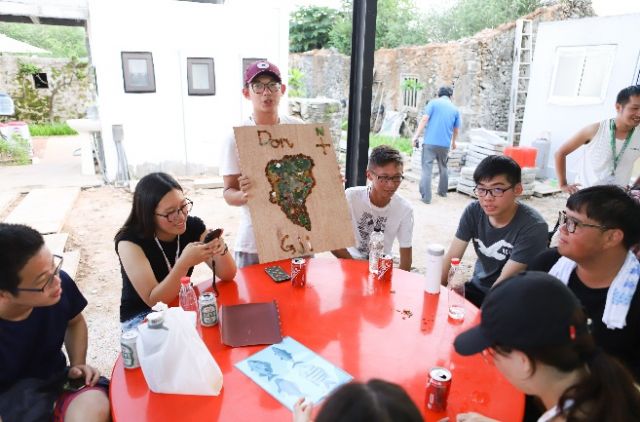 3. Crafting art piece by using ocean debris
4. Dongjiyu beach cleansing, one of the