Thank Goodness - Madame Temple & Dong Temple
Last Updated: Sep 24,2021
Hits: 57
PDepartment: Conservation Research Section
Madame Temple is the abbreviation of Madame Mom and Madame Aunt Temple. It was a small temple in Dongji Village. It was located in the south of Shiping Village (Shiping is the old name of the village) facing the sea on the west. Although the earliest construction date is unknown, the official "Map of Taiwan Fort" published in Taisho era had marked the site of the Madam's Temple. It can be seen that the temple was built in 1921 at the latest. According to the plaques in the temple in 1963 written with "Prominence of Mighty God" and the writing with "Contributions to the Temple of Madam Mom and Madam Aunt", the temple was rebuilt in 1963 and was dedicated to Madam Mom and Madam Aunt.
Madame Temple
According to the legend, because the human broken bones were excavated in front of the current temple site in the early years, the villagers buried them and built temples for worship. With the immigration of residents, the statues of Madam Ma and Madam Aunt were also transferred to Qiming Palace in Dongji, Penghu. At present, there is only one female deity on the temple's altar, serving as an assistant to the Earth Deity. This female deity was not Madam Ma but Mazu, originally enshrined on a fishing boat, was moved to the temple by the local fishermen. There is an incense burner and a pair of candle lights, and a Tiangong furnace (天公爐) are placed on the lintel of the inner door.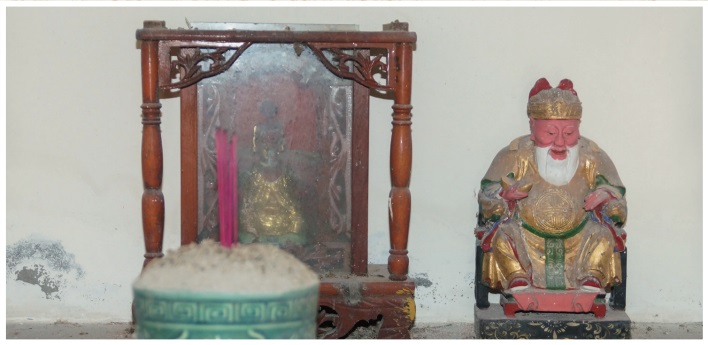 The statue of both Mazu and the Earth Deity on the Shrine in Madam Temple, Dongjiyu.
Dong Temple, also known as Gongma Temple, is located in the southeast site of Dongji Island with an old place name of Xiahu of Gonzhonghu. It is a small temple facing the ocean and was owned by the whole village. The Lord Wanshen, naked name as the Ghost King, is the god worshiped by residents. The temple was no worshiped due to the massive immigration of the population. The original statue of the god was moved to the Qiming Palace in Dongji of Penghu, Wujia in Fengshan for worship. At present, the Dong Temple building is intact. Although there are no worship activities, there are still three small statues of god including Lord Wanshan and his assistant god on the sacred table.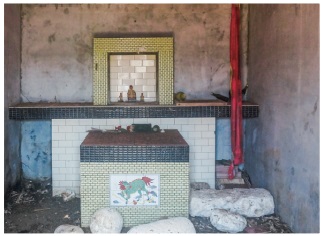 Gongma Temple has no worship activities.